Music has always been a part of my life since the age of six, when I started taking piano lessons. From saxophone in middle school to guitar and bass in high school, being involved in music has been a part of who I was. My path has led me across a wide spectrum of the music industry, from touring up the east coast to having a hand in producing some fairly large music festivals. I have been a bouncer, a stage hand, a guitar/voice teacher as well as a consultant for some EDM artists. I feel it is my duty to share my love of music with the young people of today so that they might enjoy the richness and pleasure that music can bring into their lives.

I hold a Bachelor's of Music Education from the University of North Carolina at Charlotte, where I lived for the past twenty years until relocating to Florida in 2016. My concentrations were in Elementary Music and Music Composition. Some of my past guitar and voice students have gone on to be professional musicians, playing in bands locally and regionally. I currently play guitar, trumpet, and piano, and will be bringing all three into the classroom to play for and with the students.



Powered by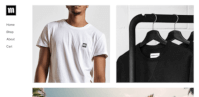 Create your own unique website with customizable templates.